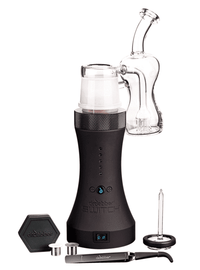 Dr. Dabber Switch Vaporizer

The Dr. Dabber SWITCH is quite simply a next generation vaporizer
 
AVAILABLE IN BLACK ONLY
The Dr. Dabber Switch is a dual-use herbal and oil vaporizer that uses patent-pending induction heating technology. Induction heat technology is significantly faster and creates an even heating surface temperature with fewer hot spots, providing a consistent flavor during the vaporization process.
Designed for optimal performance, the Switch features a self-cleaning mode called crystal mode. The cleaning cycle is a high-energy heat cycle intended to burn away any remaining residue in the ceramic-coated induction cups. This is perfect for cleaning between oil mode and leaf mode.
The Switch features powerful electronic components from its battery to its LED display. Its battery is capable of pass-through charging and the device achieves a full charge in 1 hour. The average user can get up to 150 uses per battery life. The Dr. Dabber Switch also includes a simple and intuitive interface, with 25 different LED settings to choose from when the unit is in Standby Mode.
Order your Dr. Dabber Switch today for a smoother vapor and great vaping experience.
Included with the Switch:
Dr. Dabber Switch

Battery Pack

Heavy Duty Borosilicate Glass Percolator Attachment

2 Ceramic Induction Cups

White Ceramic Induction Cup (For Oil)

Black Ceramic Induction Cup (For Dry Herb)

Ceramic Flower Filter

Dab Tool/Carb Cap

Reverse Action Tweezers

Silicone Wax Container

Charging Cable & Adapter

Carrying Box
SaveSaveSaveSaveSaveSaveSave