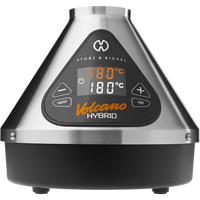 ALL STORZ VAPORIZERS ARE REGULAR STOCK
 
CLASSIC ONYX AND SILVER ALSO IN STOCK
 
The reinvention of an icon, named HYBRID for a reason. A Volcano that features Direct Flow and Balloon inhalation.
Introducing a feature we've all been waiting for; inhalation through a tube. While still offering the easy to use and fill valve balloon, you have both options available. 
Inhale the difference – but differently: With its new rotatable tube system the VOLCANO HYBRID offers a second inhalation method, besides the classic EASY VALVE balloon.

The Volcano Hybrid heats up quickly in 1-2 minutes, featuring a large display control panel with touch buttons, App control via Storz & Bickel app for android and iOS.
Why Buy the Hybrid over the Classic?
- Faster Heat Up Time
- Digital Temperature controls
- Auto Shut Off
- Direct Flow and Balloon vapor

The Volcano Hybrid comes with the following
Volcano Hybrid Hot Air Generator
1 power cord
3 Easy Valve balloon with mouthpiece
1 Easy Valve balloon with Adapter
1 Tube System
1 Filling Chamber (including 1 cap ring, 1 normal screen set, 1 drip pad, 1 cleaning brush
1 Air Filter Set
1 Herb Mill

EXTRA ITEMS AVAILABLE FOR $20: 1 EASY VALVE BALLOON, 1 SOLID VALVE BOX OF BAGS, 1 EASY VALVE SCREEN SET, 2 CLEANING STICKS, 1 CLEANING BRUSH
Parts are in stock: chambers, housing, screens, bags and more

Visit the manufacturer website for Volcano Hybrid warranty information - 3 year limited warranty
https://www.storz-bickel.com/shop_us/en/support/