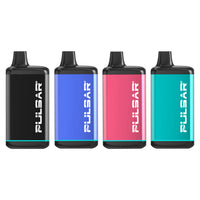 The Pulsar 510 DL 2.0 Auto-Draw Variable Voltage Battery maximizes stealth and utilizes the power of airflow to grant users full control of the vape with subtlety. Let customers keep their cartridge use on the DL with this ultra-discreet device. Simply remove the magnetic base to attach the 510 cartridge, screw the cart on, and replace the base securely. The upgraded design fits cartridges up to 2mL with a max diameter of 0.55 inches.
Like its predecessor (
Pulsar 510 DL available here
), this auto-draw vape will allow your customers to power the device on/off and set the voltage with just a few gentle puffs. Take five quick puffs to power the vape on, two puffs to activate pre-heat mode, and three puffs to change the voltage settings. For those who appreciate the classics, the Pulsar DL 2.0 features a button on the base that can be used instead of or in addition to the breath control function. Click or puff; the choice is yours!
The LED light indicator on the base will notify the user when the battery life gets low. The Pulsar DL 2.0 can be recharged again and again via a USB-C charging cable (not included) for fully preparing the unit before heading back out to hit the town.
Pulsar 510 DL V2 Features:
    Compatible with Concentrates
    Sleek Pod-Vape Shape
    Breath Control & Button Press Activation
    Larger Battery & More Voltage Settings
    Larger Cartridge Capacity
    650mAh Battery
    510 Threaded Connection
    Three Voltage Settings (2.8-3.8V)
    Sleek & Discreet
    Pre-Heat Mode
    USB-C Charging
    Cartridge Sold Separately
    Try out the original pen shape with the Pulsar 510 DL Original Vape Pen
What's in the Box:
    1x - Pulsar 510 DL 2.0 Battery
    1x - Bottom Magnetic Connector 2.0
Having an issue with your unit? Submit your Pulsar Warranty Claim
here