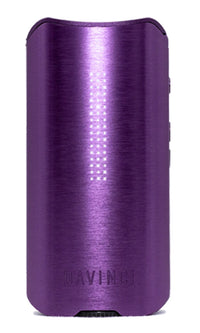 Clean. Cool. Control.

The IQ2, the sequel to the DaVinci IQ.
Everything you like about the IQ with upgrades.

For connoisseurs who simply want the very best portable, dual-use vaporizer, DaVinci's newest provides cooler vapor and the ultimate flavor and control. The IQ2 empowers you to not only customize your herbal experience through precision temperature and adjustable air flow, but also empowers you to track and report your dose per draw and per session.

The IQ2 is one of our personal portable herbal vaporizers. We added it to our collection over the summer and we are quite happy with it. Looks good, big chamber, reasonable battery, air flow control, smooth vapor and easy to clean. The IQ2 is not a full sequel but it is a nicely refined upgrade.
 

BONUS ITEMS: 4 PIECE PREMIUM GRINDER, 2 CLEANING STICKS, 2 GRIME STICKS, 1 BRUSH

Includes
IQ2 dual use vaporizer
10mm Bubbler Adapter
0.2g Dosage Pod
9 Pieces Organic Cottons
1 Ceramic Extract Tab
USB Charging Cable
Pick Tool
9 Alchohol Wipes