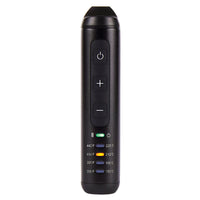 Vapium Lite Portable Vaporizer
Sold out, recommend cloudious9 atomic9 or Vapir Prima
 
Vapium's latest portable vaporizer is proving to people that there is a better way to vape. The Vapium Lite Portable Vaporizer perfectly balances high-quality engineering with a user-friendly design to create an amazing vaporizer.
 
The Vapium Lite Portable Vaporizer has a black anodized aluminum outer shell. The vape is rectangular, perfect for holding in your palm. The power button, temperature buttons, and display lights are stacked along one side of the device for easy use and reference.
 

Inside, the vaporizer features a powerful ceramic conduction heating system that heats dry herbs in a mere 45 seconds. The medical-grade silicone and polycarbonate vapor path cools and preserves the potency of the vapor with each draw from the glass mouthpiece.
Order your Vapium Lite today!
 
Included in the box:
LITE Vaporizer

Cleaning Brush

EXTRA Clean Air Intake Drawer

14/18mm glass adapter/mouthpiece
Product Specifications:
Vaporizer Type: Ground Leaf

Heating System: Ceramic Conduction

Chamber Capacity: 0.33 Grams

Battery Type: Lithium-Ion Rechargeable Battery 18500 1100 mAh

Battery Capacity: 12 Sessions

Charging time: Approximately 60 min

Case Material: Anodized Aluminum

Vapor Path: Medical Grade Silicone and Polycarbonate

Product Dimensions: 3.9" x 0.62" x 1.42" (10 cm x 2.2 cm x 3.6 cm)

Vapor Delivery Method: Direct Draw

Product Weight: 0.19 lbs (88 grams)