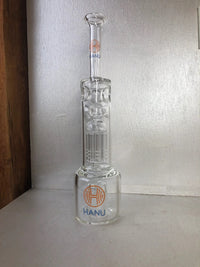 SOLD OUT, NO MORE AVAILABLE 
LIMITED EZ LOAD BOWLS AND HYDRATUBES AVAILABLE 

The VapeXhale Cloud EVO™ is one of the most advanced vaporizers on the planet. The unit has been designed to ensure that you get the healthiest, thickest, and tastiest vapor possible. The Cloud EVO™ took all the best attributes of the award winning Cloud Vaporizer and improved on every aspect of the machine including: An All Glass Air Path, Perpetuheat Heating System, a HydraTube™ Delivery System, Lighter Weight and Faster Heat up Time.
We have been selling the EVO since the beginning and use it personally, the VapeXhale EVO is a truly amazing vapor experience. Sit back, relax, breath in, enjoy the airy smooth vapor.

BONUS ITEMS:
4 PIECE PREMIUM GRINDER, 4 CLEANING STICKS, 1 CLEANING  BRUSH, TIP SHEET

Key features:

All glass vapor path
Perpetuheat Heating System™ (PHS)
HydraTube™ Delivery System
Lightweight Design
The Standard EVO includes:
VapeXhale Cloud EVO
VapeXhale Glass Mouthpiece
2 (two) VapeXhale Nail
Heat Shield
2 (two) EZ Load Bowls
Power Cord
Cleaning Wipes
Instruction Manual
We include the Standard Glass Mouthpiece or Whip with all EVO HydraTube kits.  The HydraTubes are great but we want all EVO clients to experience reclining with their EVO using the standard MP or whip.
We offer full tech support and can help make your VapeXhale EVO experience truly satisfying. The VapeXhale EVO is eligible for our 14 day exchange policy towards another vaporizer. Not applicable on used HydraTubes and accessories.