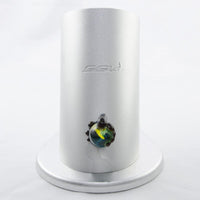 Silver Surfer Vaporizer
 

Are you looking for a sleek desktop vaporizer with great vapor quality? Look no further than the Silver Surfer. The Silver Surfer vaporizer is a stunning desktop vape that offers great vapor production and easy use. 7th Floor's Silver Surfer is one of the best desktop vaporizers on the market!
Dry Herb Vaping is easy thanks to the high-quality parts of the Silver Surfer. Plug the unit into a wall outlet, turn the temperature knob to your preferred temperature setting, then wait for it to get up to temperature. Every spherical glass temperature dial is one of a kind—a unique trait compared to other desktop vaporizers.  The Silver Surfer vape's ceramic heating element heats up quickly, allowing users to get a fast, even burn from their dry herbal blend. Use the included hands-free attachment for easy vaping. Users can also attach vapor tubing to the mouthpiece for direct draws.
The Silver Surfer desktop unit is perfect for your at-home vape session, no matter whether you are an avid vaper or a newbie. The SSV makes it fast and easy to enjoy the vapour of your favorite herbal blends. And, you can even take it on the go with its very own padded carrying case! Order yours today.


What's included:
Silver Surfer vaporizer

Pick with glass top

Assembled whip (standard glass wand, hose, mouthpiece)

15.8mm screens

Carrying case
Features:
Quick-change glass wand that allows you to change the screen in seconds

High quality ceramic heater

Housing is made of 1/5 inch thick aluminum making it ultra durable

Laser-engraved SSV logo on front

Indicator light that brightens and dims based on the temperature

10-foot heavy-duty power cord

Upward angle wand keeps the material in and is easier for holding

3-year warranty made in the USA (excludes glass components)
BONUS ITEMS: 4 PIECE PREMIUM GRINDER, 2 STICKS, 1 CLEANING BRUSH

We can't guarantee the color for the base of the unit, only the unit itself. if you have specific cosmetic needs for the base of the unit's color, place the order and either leave a comment in the order or email sales@vaporizers.ca and we'll try our best.