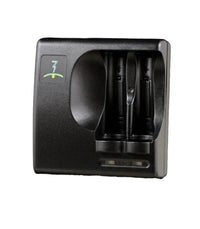 The Magic-Flight NiMH Charger holds two AA NiMH batteries and is compatible with both 110 and 220 volts for domestic and international usage. It has North American plugs so you may need an adapter plug if you are using it in a country outside of North America.

This charger is made to Magic-Flight Specifications and will provide a slow charge that is safe for the Low Self Discharge Batteries used with the Launch Box. It will charge two NiMH batteries in four hours or less.

*Note: Please do not use Radio Shack brand Batteries or chargers with your Launch Box. It is important to use a slow charger (one hour or more) with the Low Self Discharge batteries that come with the Launch Box. Fast chargers can easily over heat and damage the low self discharge batteries that come with the Launch Box.