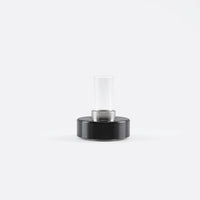 Replacement Eden Mouthpiece.

INCLUDES:
1 x Eden glass mouthpiece, with filter section.

COMPATIBLE WITH:
Linx Eden.

HOW TO CLEAN:
Unscrew the filter section off the mouthpiece section.  Soak all parts in Iso alcohol for around one hour.  Wipe all pieces with a Q-tip.  Re-attach the filter section to the mouthpiece section for next use.