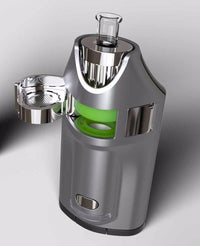 Ghost MV1 Vaporizer
 
LIQUIDATION SHIPMENT
LIMITED WARRANTY, 15 DAYS, EXCHANGE ONLY
NEW UNITS WITHOUT BATTERY

The Ghost MV1 is a complicated vaporizer for vapor enthusiasts only. You need big lung power and patience to learn how to use the MV1 properly.

For burst vapor, you can also consider the Firefly 2 Plus.

For standard portable vaporizers, consider the Utillian 722, Zeus Arc GT or the Crafty + / Mighty vaporizers.


CHECK OUT OUR LIQUIDATION SECTION

 
When they originally set out to create the GHOST MV1, they wanted to go further than just solving the performance issues experienced with other vaporizers. While Technology and ground-breaking engineering is at the heart of what makes the MV1 perform so well, design was also of paramount importance. We wanted to create something truly iconic - a product that stood out from the crowd, ergonomically designed and perfectly balanced with intuitive features and tactile finishes that make it a pleasure to hold, use and share with friends.
Built to Medical Device Standards the GHOST MV1 stands out from the crowd. All component parts have been custom designed and engineered to extreme tolerances making the MV1 the safest, best performing product on the market and a pleasure to use for years to come.
The latest production units now come with:
- The latest heat-sink with improved seals
- Highly durable tactile Matt UV finish on reverse
- Newly improved door mechanism & switch
- Updated firmware to keep your MV1 operating at its very best
- Improved tolerances
Bonus Extras: 2 Cleaning sticks, 2 Grime Sticks, 1 Cleaning Brush
Included in the box:
Ghost MV1 Vaporizer
USB Charge Cable
Quick Start Guide
1 x Spare Crucible with Lid
1 x Concentrate Pad
3 x Picks
3 x Isopropyl Alcohol Wipes
3 x Cleaning Buds

Looking for more information and tips on how to use the MV1?
For an MV1 User Guide and Tips, click here

Warranty information:
LIMITED WARRANTY SUPPORT