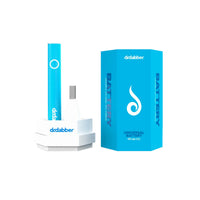 CANADA SHIPPING ONLY, NO USA

Dr Dabber Universal battery is the perfect complement to your 510 cartridge.

Featuring 3 heat settings as well as a 15 second pre-heat mode, the 510 Cartridge Battery is a stylish, but functional addition to your distillate cartridges. 

Good for 40-50 uses on a charge, more than enough to handle a standard 500mg cartridge.

Available in multiple colors.

510 Battery Features:
    510 Cartridge Battery
    3 Heat Settings
    15 Second Pre-Heat Mode
    40-50 Uses on a Charge
    USB Charger Included (Cartridge Sold Separately)

What's in the Box:
    1x - Dr. Dabber Universal 510 Battery
    1x - USB Charger

WARRANTY - 1 year manufacturer warranty
Warranty inquiries to be directed to: info@drdabber.com
Include a copy of your invoice, your shipping address and full name along with a description of the issue.