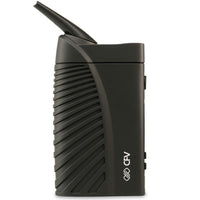 The CFV is a great choice if you are looking for an affordable, full convection pocket sized vaporizer. 
 
Features
    Full Convection Heating, 30s Heat up
    140° F - 446° F Fully Adjustable Temp.
    Pocket Size
 
BONUS ITEM: 2 cleaning sticks, 1 brush

Battery life is 30-40 minutes, not recommended for clients that need longer

The CFV is a very easy to use portable vaporizer. Just grind your plant material to a medium fine grind, load it up and you're ready to vape in 30 seconds. The vapor gets denser after the first inhales, stirring half way through the session is recommended.
Fast Convection Heating: The CFV has full digital temperature control, is ready to vape in around 30 seconds, and uses full convection, heating your material only when you're inhaling.
Tasty Vapor
The CFV gives surprisingly cool, satisfying and most importantly, tasty clouds from a small package.
The CFV is the perfect size for a portable vaporizer. Comfortable in hand and easily fits in your pocket. The unique outer shell has a soft, grippy texture that helps insulate the vape and just feels nice.
SaveSave