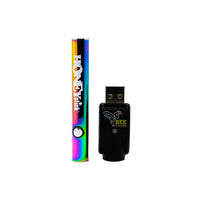 The Bee Master 510 by Honeystick
 

Reigning in at only 3 inches long and a few millimeters round, The Bee Master 510 battery is a small and discrete portable vape battery. It can fit in the palm of your hand, your pocket, or your wallet with ease.
 
Just screw on your 510 cartridge, select the preheat function, wait for the device to heat up, then inhale the potent, flavorful vapor. It's simple and easy.
 
Despite its small size, the Bee Master 510 still packs a punch; it has 3 temperature settings to vaporize oil concentrates to your desired temperature.

The Bee Master also comes with a USB charger that promises rapid charging anywhere you can connect.
 
The Bee Master 510 is a stylish portable 510 vape battery for oil concentrates. It is perfect for casual vapers looking for a small, light vape to bring with them on the go. Order yours today! 
  
Product Features:
Pre-heat functions

Compact size

3 temperature settings (3.6V, 3.8V, and 4.0V)

High-quality chameleon finish

Rechargeable 350mAh battery


When connecting your device to a charger that came with your Honeytick device for best results. If your charger needs to be connected to a USB source please do NOT use the following charging methods or it may harm your battery or not charge it properly: laptops, rapid chargers, power banks, or Apple products. Standard Android, Blackberry, Amazon, or generic wall adapters and desktop computers are good charging sources for the USB plugs.
 If your product is within the 90 day warranty, you may submit a warranty claim. Before submitting a claim, please troubleshoot your device via the videos available on the HoneyStick Youtube channel.

If you are still having issues please contact: support@vaporizers.ca with your order number and short description of the issue you are experiencing. 
SaveSaveSaveSaveSaveSaveSave