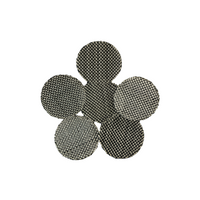 6 PACK SCREENS

Mesh Screens for Arizer Portable vaporizer Glass Tubes.
Compatible with the Arizer Air, Arizer Air II, Arizer Solo, Arizer Solo II

These mesh screens are only needed for finely ground plant material. If it is not finely ground, you can just insert the material into the glass tube without a screen. The screens are made out of high grade stainless steel material.
6 Pack Arizer Official Flat Screens

SaveSaveSaveSaveSave