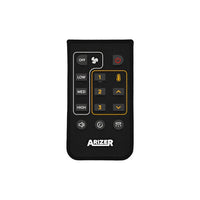 The Arizer XQ2 Remote Control provides direct access to your frequently used Custom Session Settings plus Programmable Temperature Presets.
Enjoy the convenience of controlling your XQ2 vaporizer with an easy-to-use remote control with large buttons. With this remote, you can quickly turn the device on or off, set your desired temperature, choose the colour of the LED strip, and turn the fan on. It's the perfect choice for anyone looking for a convenient and precise way to relish in their favourite herbs.
Get the best out of your vape with this Arizer XQ2 Remote Control and experience relaxing sessions with effortless control of your vaporizer. 
Includes: 1 x XQ2 Remote Control
Compatibility: XQ2