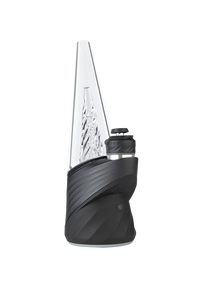 NEW Puffco Peak Pro Smart Rig Vaporizer

The NEW Peak Pro is the pinnacle of eRig technology
 
This premium smart rig delivers incredible flavor and unparalleled performance. Unlock the fullest potential of the plant with its single-button interface, deep customization via the Puffco Connect app, and patented 3D Chamber. Featuring the Joystick Cap and laser cut perc slots for improved water filtration, enjoy the best experience ever in two beautiful colors – Onyx and Pearl.
 
3D Chamber
Innovative technology heats your concentrate from the sides of the chamber – not the bottom – preserving those tasty terpenes and cannabinoids for an all-around better hit.

Real-Time Temperature Control
No matter how much you load or hard you inhale, your temperature stays right where you want it.
Joystick Cap
Improved airflow starts here with our newest directional cap, which makes moving your concentrate around the chamber easier than ever.
 
Full Control, Full Flavor
Unlocking the power of the 3D Chamber is just a tape away. Use the single button on the Peak Pro to select a profile and start heating. Choose from optimized preset profiles or create a custom experience with control over temperature, time, vapor intensity and more.
 
Make the mood
Set the vibe for your session with animated lighting options. Select the style, adjust the colors, and dial in the details with exclusive settings available for the new Peak Pro.

FULL SPECS:
3D Chamber
Real-Time Temperature Control
Large Ceramic Chamber
4 Preset Heat Profiles
(expandable/customizable via app)
40 Heat Cycle Average Battery Life
20 Second Heat Up Time
2 Hour Fast Charge Time
Bluetooth App Connectivity
Customizable LED Lights
Auto-Sleep Function
Wireless Qi Charging
USB-C Connection
Carrying Case Included

PEAK PRO ORIGINAL ALSO IN STOCK, LIMITED QUANTITIES

Warranty
For any device or troubleshooting issues, please email support@puffco.com
For warranty Service follow this link.