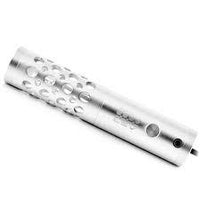 The Life Saber Vaporizer from 7th Floor

AVAILABLE IN BLUE COLOR

Use the power of The Force to fuel your next vape session. The Life Saber Vaporizer by 7th Floor is a sleek, portable vaporizer that looks like the hilt of a lightsaber from the classic movie series Star Wars.

The cylindrical vaporizer is made out of anodized aluminum and features circular holes, each drilled by hand. Inside is a powerful heating element equipped with a large chamber. The result is a vape that looks and feels like it stepped right out of a sci-fi movie.
The Life Saber uses the same heating element and ground glass design as the Da Buddha and Silver Surfer. Just grab the Life Saber and pack the glass wand, insert the glass wand upside down into the base, that easy. You can even unscrew the top and use the unit like a chamber for your water attachment. You can also remove the heater cover to get access to the heating element to vaporize with another device.

Included with the product:
- Travel Bag
- Stirring Tool
- 3 Year Warranty