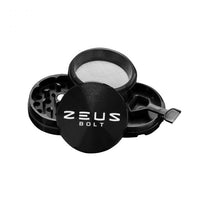 Zeus Bolt 2 Grinder
The Zeus Bolt 2 Grinder is a small but mighty grinder. It is small enough that it remains discreet and portable if needed, yet it promises the perfect grind thanks to its exceptionally high-quality Aircraft Grade Anodized Aluminum (AGAA) teeth. It is the perfect grinder for avid vapers and enthusiasts.

The ZEUS Bolt Grinder is a medium-sized grinder that features diamond-cut teeth that are calibrated to grind herbs to the perfect consistency. Grind consistency is extra important when using vaporizers, as it will enhance efficient vaporization and therefore save money over the long term.
Unlike many other four-piece aluminum grinders, the ZEUS Bolt 2 Grinder comes with an extremely hard, durable case that is air-tight, making it the perfect smell-proof container for your Bolt 2 on the go. It is also convertible into a three-piece grinder by simply leaving the screening compartment out.
The ZEUS Bolt 2 is the perfect grinder no matter what vaporizer you may have! Order yours today.
 
Package Contents
   1 x 4 piece ZEUS Bolt 2 Grinder

   1 x Air-tight carrying case

   1 x ZEUS scoop
How To Use
Open top of the grinder

Place herb on the bottom layer of teeth

Close top of the grinder

Rotate top section of grinder, by twisting back and forth

When herb has been ground to the perfect consistency for vaporization, it will fall through to the second layer and into the middle chamber

Unscrew the top two pieces from the bottom two in order to access herb located in the middle chamber

The bottom compartment stores botanical dust which falls through the fine mesh screen
Cleaning
Empty contents of grinder from the middle compartment and bottom compartment

Disassemble grinder into 4 pieces

Soak 4 pieces in 99% alcohol for about 30 minutes

Remove pieces from alcohol

Use ZEUS Bristle Pipe Cleaners to dislodge any remaining particles or residue

Rinse pieces with hot water

Drip or towel dry all pieces completely before re-assembling

Reassemble your sparkling clean ZEUS Bolt 2 grinder!