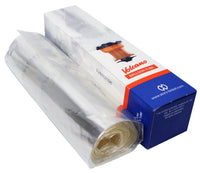 Single Volcano box of balloons also available - CLICK HERE

Save $ on a 16 pack boxes of Volcano bags

The big balloon set contains 16 boxes each containing 3 meters balloon material, enough for 80 balloons (bags) of the standard size of 60 cm /23 inch (approximately 8 liters). The tube material consists of highly pure, robust and seamless polyester. It is heatproof, food safe and tasteless. 
Delivery includes
16 pcs. x 3m;
for use with Solid Valve or Easy valve with adapter