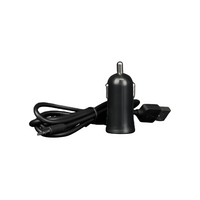 The Arizer Air II Car Charger is the perfect accessory for powering up your Arizer Air II vape on the go. With a compact design and added convenience, this Arizer air car charger easily fits into any standard 12V outlet in your vehicle and charges your device while you're on the move. Whether on a long road trip or simply commuting to work, this car charger ensures that your Arizer Air II is always ready.
Don't let a dead battery ruin your vaping experience - get the Arizer Air II Car Charger today and enjoy hassle-free charging wherever you go.
Includes:
1 Car Charger for recharging the Air II in your vehicle.